The Evolution of a B'stilla
The Evolution of a B'stilla
What's B'stilla? It's a dish that originated in the Middle East and a national dish of Morocco. My first encounter with this memorable dish was at an office potluck. A co-worker brought a b'stilla specially prepared by Moroccan cooks. It was an incredible taste explosion. The complexity of the sweet and savory, the succulent meat and the crisp and flaky crust, it was as if a chicken pot pie and a baklava had a baby.

One Thanksgiving, I was in charge of making a dish for our family meal and found Yotam Ottolenghi's recipe and decided to try recreating that taste explosion myself. It was delicious! I substituted duck for squab and the results were amazing! I was able to relive the memory of my first b'stilla. While the recipe isn't difficult, it is rather complex since it involves many, very worthwhile steps.

Here's my version of Ottolenghi's recipe dusted with the customary confectioner's sugar. I enjoyed reading this brief history on b'stilla as it really is about the art of mixing sweet and savory flavors together.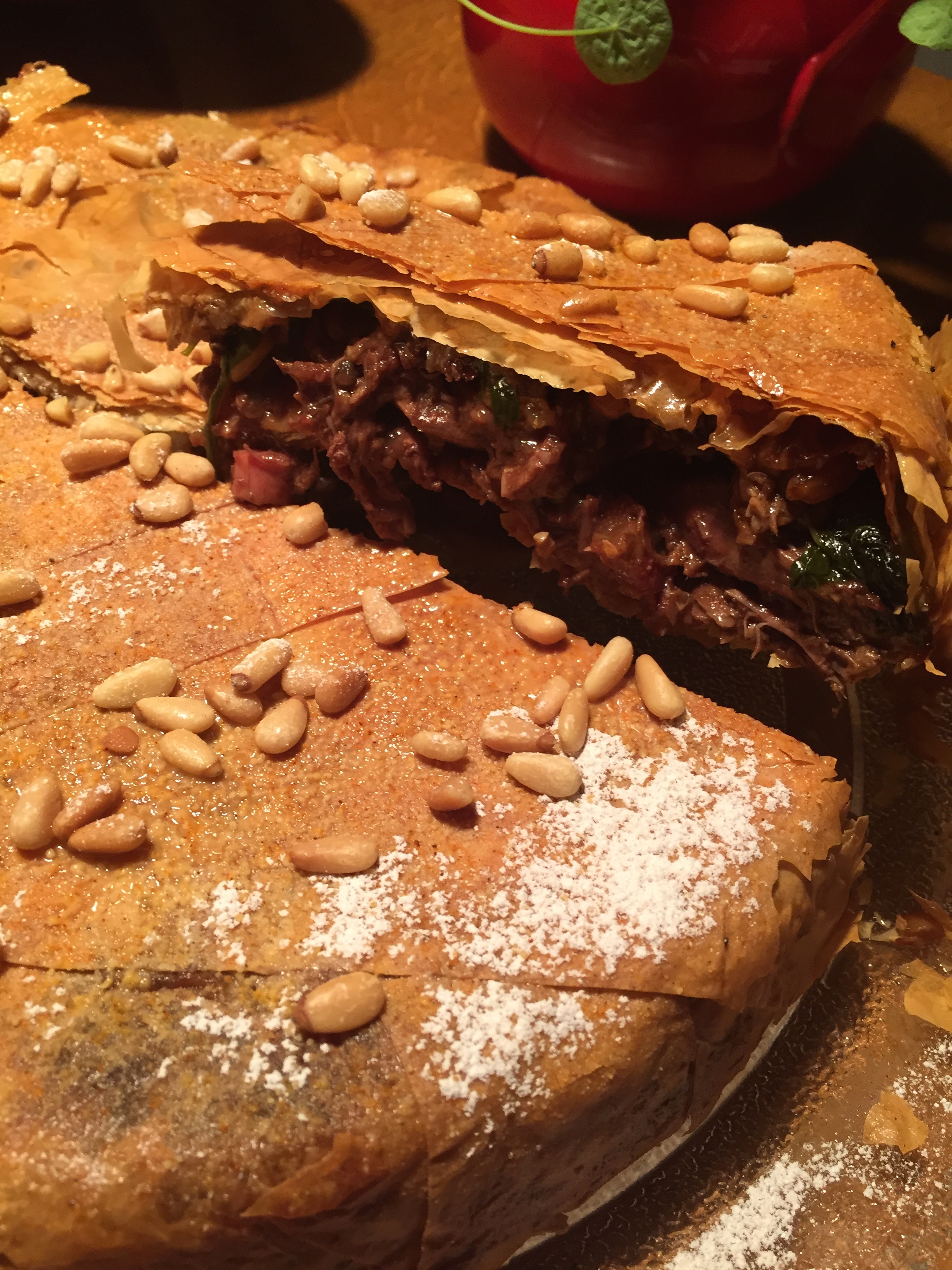 While making the dish, I began to understand the key components that make a b'stilla: a shredded meat filling (most often poultry or seafood), wilted vegetables, nuts, dried fruits and spices, wrapped and baked in phyllo-like crust. This prompted me to engineer something much simpler while still keeping the essential elements and the magic flavor profile and that's how my duck pie was born.
This is the result of my first experiment. I wanted to capture the essence of b'stilla while putting a spin on it that reflected my tastes and aesthetics. I wanted to retain the traditional elements while experimenting with different presentations.